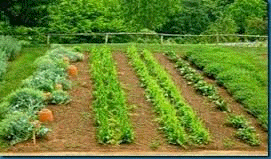 The Row Crop Drip Irrigation Kit*
$74.00 - 50 ft. Mainline Tubing
$80.00 - 100 ft. Mainline Tubing
(To save on shipping, purchase kits without 1/2" tubing for $66.00)
Specifically designed for longer row crops and extensive square foot gardening, this kit uses 5/8" 15mil, high flow Drip Tape with emitters spaced 8" apart for even watering. This is enough Drip Tape for five 20-foot rows or ten 10-foot rows.
For this drip kit to work at its best, your barrels should be elevated at least six feet off the ground to maintain the minimum requirement of 3 psi from start to finish. If you're unable to elevate the barrels to 6 ft., then raise them up 4 ft. if you can. At this height your system will still have just enough pressure to function, although it won't be as strong or last as long.
If you maintain the requirement of 3 psi throughout and use 100 ft. of Drip Tape, each emitter (150) will produce approximately 0.15 gph or 22.5 gph total. That being said, how long your water lasts depends on the length of time you leave your spigot open. To ensure that you have enough water for the time set, we recommend using a 275 gal. tote or a system of at least four rain barrels.
Here is where experimentation comes in. Set your timer for 15 minutes, then test your soil to see if that was enough time for the water to reach your plant's root system. Adjust the start time(s) and duration accordingly, based on your results. How long your water actually lasts depends on your setup (number of emitters, soil condition, height of barrel(s), system capacity, type of spigot, length of tubing, timer use, etc.).
The Row Crop Drip irrigation kit includes:
| | |
| --- | --- |
| 50 ft or 100 ft Roll of 1/2" Tubing | Deluxe Y Filter w/stainless steel 200 mesh screen and drain valve (save on shipping) |
| 100 ft Roll of 5/8" Drip Tape | 10 Tape Loc Barbs |
| 10 Goof Plugs | 1 Tape Loc Coupling |
| 2 Figure 8 Ends | 10 Tape Grip Sleeves |
| 1 - 1/2" EZ Loc Beginning | 1 Easy Grip Punch |
| 1 - 1/2" EZ Loc Tee | 20 "U" Stakes |
| Description Sheets | Instructions |