Rain Barrel Soaker Hose, a bulk soaker hose that works with NO PRESSURE! This soaker hose has been designed specifically for rain barrels, 55 gallon drums, etc. that have a faucet connection.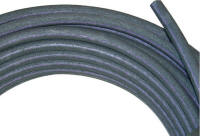 Always use our 200 mesh filter to prevent soaker hose from clogging!
The Soaker hose with the purple stripe.
Test Results:
Rain Barrel Soaker Hose works best when your system is created with a continuous flow. Meaning there are no ends. The diagrams below show a few examples of how this is obtained. For best results, the hose should be covered with mulch to keep the hose cool as extreme heat has a direct effect on the output of the hose.
Flow rate will vary due to topography, height of the barrel, clean filter, extrusion process of the hose all will have an impact on the "exact" amount of flow from the soaker hose.