Double Barrel System
2 ft. Stand $800
3 ft. Stand $880
59" L x 30" W
Bottom Rack add $130
Posts and Support Railing add $85
Black Railing Post Caps add $30
Extended Overflow Hose add $20
8 Pavers add $190 (includes edging, spikes,
sand and/or gravel, weed barrier, and labor)
Triple Barrel System
2 ft. Stand $1110
3 ft. Stand $1190
86" L x 30" W
Bottom Rack add $165
Posts and Support Railing add $120
Black Railing Post Caps add $30
Extended Overflow Hose add $20
12 Pavers add $270 (includes edging, spikes,
sand and/or gravel, weed barrier, and labor)
One is the same as the other and yet completely different, as you can see in the photos below. Both barrels are cedar cladded, stained with a Honey Gold color, and banded with 1 1/4" steel strapping. Both are umbilically connected using underneath and concealed plumbing with ball valve technology. Individually, they each hold more than 55 gallons of rain water, yet they are as different as night and day.
One barrel has a rain chain or a reconfigured downspout going into it, a lid with a 12" opening, a removable 600 micron debris screen, and an overflow with a 12 foot, 1 1/2" dia., flexible drainage hose. The other barrel has none of these. It is a closed unit that would normally be attached to the Water Saver Diverter, which, as you can see, it is not. Two barrels, juxtaposed together as a true Rain Harvesting paradox.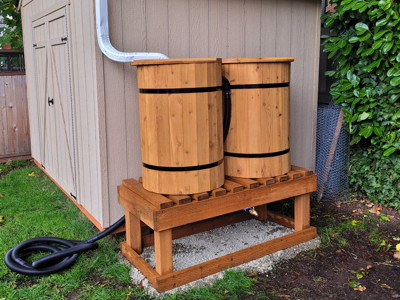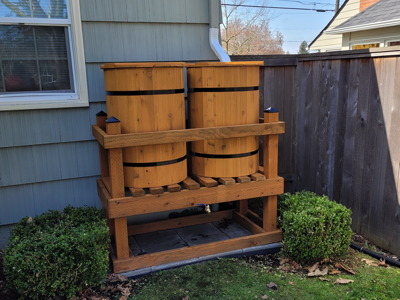 Special Note: These systems should be completely drained with the spigot left in the open position to prepare for a cold snap.